TACTICAL K9 TRAINING FOR
POLICE & MILITARY
Direct Action K9 is fully committed to enhancing the performance of the men and women serving our country at home and abroad.
Our goal is to provide you with the best training to help you accomplish your mission and bring you and your partner home alive. We have years of real-world experience in the most demanding conditions, both here and overseas.
All of our training is customized to meet your needs. Please contact us to set up training for your organization or to inquire about our courses.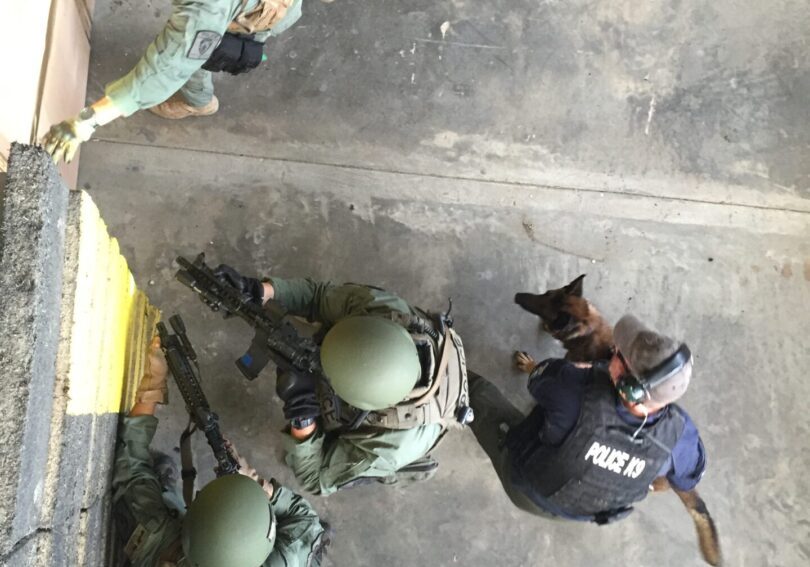 Tactical K9 Applications is a course that consists of a series of realistic, force-on-force scenarios. This training provides the handler with the opportunity to test decision making during realistic situations, as well as identifying strengths and weaknesses in current tactics and training methodologies. Training Scenarios include:
K9 & officer casualty care

In-depth After Action Reviews (AAR)
Our SWAT Integration course provides departments with a unique lifesaving capability. This course enables your team to incorporate a K9 off-lead during assaults. The K9 will be able to distinguish team members from suspects in both daytime and limited visibility conditions. The course can be tailored to your departments needs and mission set.
The first phase is an assessment of the K9s aptitude to perform as a SWAT dog.

The second phase consists of realistic scenarios in which we teach the K9, handler, and team members how to properly employ the K9 during SWAT operations.
Building approaches and assaults

Tactical movement techniques and obedience

Tactical tracking with team
Tactical tracking is designed to train your organization to execute high-risk tracking with team members utilizing proper techniques and movement formations. This course consists of instruction and culminates in force on force scenarios designed to examine handler and team decision making and tactics.
K9 Tactical Combat Casualty
Care (TCCC) Course
Our K9 TCCC course provides handlers, team members, and medics the skills necessary to treat an injured K9. Our staff has extensive training and real-world experience treating K9 injuries.
The course teaches how to properly treat common injuries with both specific and improvised first aid gear. The course consists of classroom presentations and realistic scenario-based training.
Our rope operations course is customized to your needs. We can teach
Emergency building evacuation
We will demonstrate the proper equipment to be utilized for each application. This course is ideal for SWAT or search and rescue handlers.
Our obstacle negotiations course teaches handlers how to properly negotiate obstacles commonly encountered on patrol or during SWAT assaults utilizing various techniques and equipment. The handler will become proficient at negotiating obstacles tactically and safely.
Our tactical obedience course teaches handlers and their K9s proper movement techniques that enhance survivability in high threat situations. We utilize clear signals training and positive reinforcement to achieve this. Handlers will learn how to move with their K9 in different situations, both indoors and outside properly. The course will focus on the terrain in which the handler typically operates.
Basic/ Advanced Marksmanship w/ K9
Our basic and advanced marksmanship courses instruct handlers to accurately engage threats with a pistol and/or rifle while handling a K9. Topics include:
Various shooting positions 

Safe gun handling techniques

Immediate action techniques.
The courses culminate with shooting under physical duress to mimic shooting in real-world situations. These courses can be customized to your needs.
Night vision/ low light training
Learn proper utilization of night vision, laser aiming devices, and/or weapon mounted flashlights. You can conduct any of the courses listed above in low light conditions. Whether it's tracking, marksmanship, negotiating obstacles, tactical obedience, or scenario based training. If your department doesn't have the equipment to conduct low light training, we can provide it. We can tailor all low light training to your requirements as well. 
"I am an Ohio State K9 evaluator, and assistant trainer/ vice president for the Police K-9 Association (PK9A) based out of Canton, Ohio. We are one of the largest training organizations in our area with up to forty police K9 teams under our responsibility Teams that train with us have registered thousands of apprehensions and hundreds of apprehensions with a bite. PK9A trainers regularly replicate scenarios that our officers have been involved in, and we also regularly send our officers to scenario based courses given throughout the country. The Tactical K9 Applications scenario based training our officers received from Direct Action K-9 was not only some of the most realistic situational training I have seen, but also some of the most necessary and unique training we have attended. Topics covered by the Direct Action K9 trainers help you to prepare you and your partner for violent and worst case scenario type confrontations through simulation, observation and evaluation. Members of the Direct Action K9 staff are some of the most knowledgeable, experienced and approachable trainers I have worked with. We continue to use many of the scenarios, equipment recommendations, and training points that we learned at their course with our K9 Teams to this day. I would add their class to any training you may be considering this year. It will change your mindset."
Karl Milam
SWAT Integration Course"When we began the process of attempting to integrate a K9 into our SWAT Team, we struggled with developing TTP's which were effective. We felt the common practices employed across the nation did not utilize the K9 in the best way. We turned to Jean-Claude and the team from Direct Action K9. This decision turned out to be pivotal for us, as the lessons we learned from Jean-Claude became the foundation for our SWAT K9 program. Direct Action K9 is run by men who have years of experience handling dogs in a tactical environment in some of the most dangerous spots in the world. If you're serious about developing a tactical K9 capability, I wouldn't hesitate to use Direct Action K9."
Brian H.
Guilford County Sheriff's Office
"I've been an operator on our SWAT team for 13 years and have worked a dual purpose K9 for the past 7 years. I met Jean-Claude at the Ohio Tactical Officers Association conference about 5 years ago when I participated in a 4-day Tactical K9 course that he was instructing. I was blown away by the professionalism, enthusiasm and dedication exhibited by Jean-Claude and the DAK9 instructors. They combined their "real life" tactical experiences as SF K9 operators with tactical applications needed for today's SWAT/K9 teams. I learned invaluable lessons and tools needed to not only be a better police officer, but a more tactically sound and efficient SWAT/K9 operator. Throughout the course, students were reminded that you're a police officer before you're a K9 handler (not every situation calls for a dog). This still resonates with me as I often remind myself of this on the street. I highly recommend this course and look forward to advancing my skills through any of DAK9's courses in the future."
Police Specialist Mike Harper
Cincinnati Police Department SWAT/K9 Team